Features
Sweets Production Poland
Six dry-coolers, model JGH2790.C5 / 03Q2EAF (EC) (AFS) S, capacity 466 kW each, supplied for a new plant in Poland of a world leading company in the production of exclusive sweets.
In order to optimise costs of absorbed power, units are equipped with EC fans. High efficient adiabatic system (AFS) ensures safety even in case of the highest region ambient temperatures.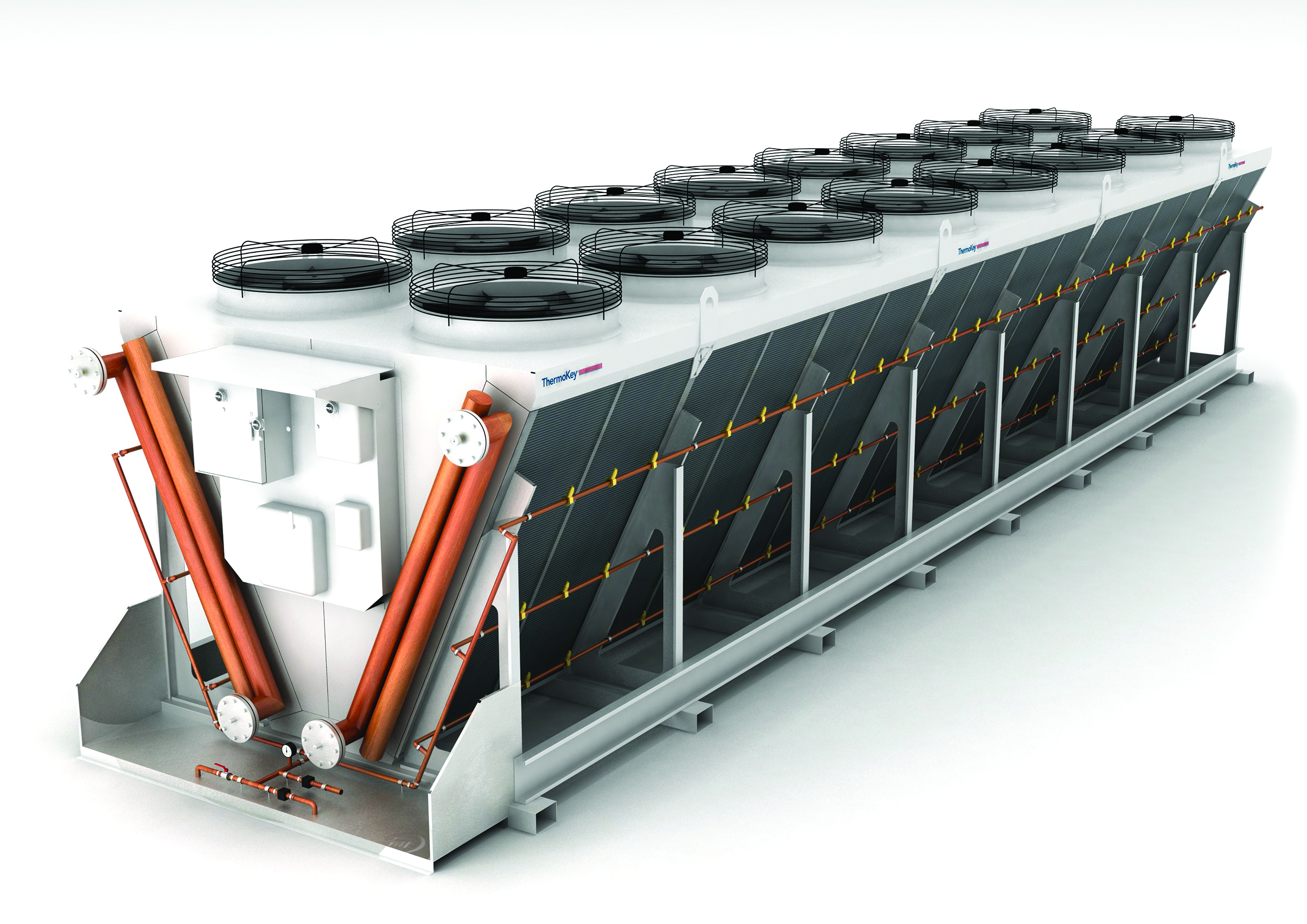 Adiabatic system - AFS (Air Fresh System)
Sweets Production Poland
ThermoKey adiabatic cooling system equipped with special high-pressure nozzles, which allows to compensate the peaks of power to be dissipated, with minimum water consumption for a maximum of 500 hours per year.
The combination of high pressure water, the nebulization effect of nozzles (MISTING effect) and a specially designed electronic control system represent the innovative principle of AFS system.
It uses only the quantity of water necessary to obtain the desired adiabatic effect.
Tüv Certificated: "No danger in correlation with the risk of legionnaires' disease".
ThermoKey has designed the lifting eyes to ensure a correct and easy handling of the dry cooler in compliance with safety standards. Each fan module is separated from the other thanks to panels in order to avoid air by-pass and to optimize the efficiency of the heat exchanger. In this way the correct and proportional functioning of each module is granted.
The protection cover on the headers side and a closing cover on the return bend side of the coil avoid any damage even to the most fragile parts. Standard painted casing with C4 protection-class, designed in galvanized steel which is oven painted
with polyurethanic resins to guarantee a perfect durability over time. In order to verify the correct pressure of the circuit, the unit is supplied with nitrogen charge of about 3 bars, which can be checked on the manometer mounted in factory. ThermoKey, Heat Exchange Solutions.
Related products
Image gallery