Caratteristiche
Produzione Dolci Polonia
Sei dry coolers, modello JGH2790.C5 / 03Q2EAF (EC) (AFS) S da 466 kW ciascuno, forniti per un nuovo stabilimento in Polonia di un'azienda mondiale leader nella produzione di dolci esclusivi.
Al fine di ottimizzare i costi di potenza assorbita, le unità sono dotate di ventilatori EC. Il sistema adiabatico ad alta efficienza (AFS) garantisce la sicurezza anche in caso di temperature ambiente molto elevate.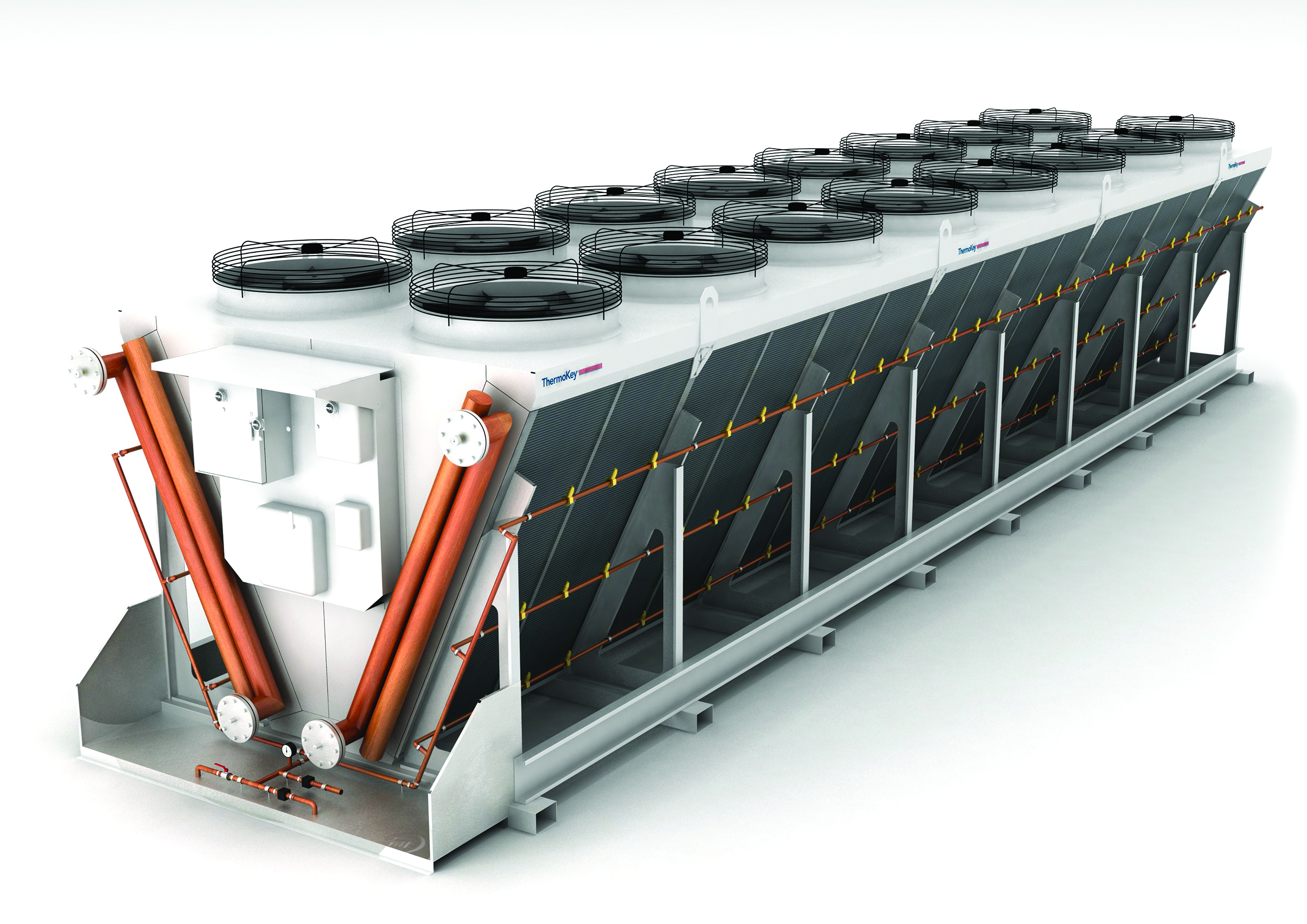 AFS - AIR FRESH SYSTEM
Produzione Dolci Polonia
E' uno dei sistemi adiabatici Thermokey, equipaggiato con speciali ugelli ad alta pressione, che permettono di compensare i picchi di potenza da dissipare con un ridotto consumo di acqua per un massimo di 500 ore/anno
La combinazione dell'acqua ad alta pressione, l'effetto nebulizzante degli ugelli (effetto MISTING) ed un sistema di controllo elettronico appositamente progettato rappresentano il principio innovativo del sistema AFS.
Viene utilizzata solamente l'acqua necessaria per ottenere l'effetto adiabatico desiderato.
Certificato Tüv: "Nessun pericolo in correlazione con il rischio di malattia da legionella".
ThermoKey has designed the lifting eyes to ensure a correct and easy handling of the dry cooler in compliance with safety standards. Each fan module is separated from the other thanks to panels in order to avoid air by-pass and to optimize the efficiency of the heat exchanger. In this way the correct and proportional functioning of each module is granted.
The protection cover on the headers side and a closing cover on the return bend side of the coil avoid any damage even to the most fragile parts. Standard painted casing with C4 protection-class, designed in galvanized steel which is oven painted
with polyurethanic resins to guarantee a perfect durability over time. In order to verify the correct pressure of the circuit, the unit is supplied with nitrogen charge of about 3 bars, which can be checked on the manometer mounted in factory
Related products
Image gallery