Features
Refhyne green hydrogen PEM
Developed by a European consortium, the Refhyne project aims at accelerating the production of green hydrogen and helps to achieve the goal of climate neutrality in Europe.
Started up by Shell in its energy and chemical park in Germany, near Cologne, Europe's largest renewable hydrogen production plant will be the first to use large-scale PEM technology in a refinery.
Polymer electrolyte membrane (PEM) electrolysers are more compact than the traditional ones and are suitable for working with renewable energy sources because they can operate dynamically using variable electricity loads.
The 10MW electrolyser will use renewable electricity to produce up to 1300 tonnes of green hydrogen per year, which will be initially used to produce lower carbon-intensive fuels, but in the near future, will be used to help decarbonise other industries.
ThermoKey was involved in the project with the supply of 4 Drycoolers with Run & Standby configurations.
The totally customized units were manufactured with copper pipes and fins, 316 stainless steel casing and Axi-Top cowlings fitted on the fans.
Furthermore, due to site constraints, it was necessary to design a specialized bracket to withstand the forces of the customers pipe work on our flanges.
The biggest challenge in any case was represented by the need to supply compact sized exchangers to guarantee low noise levels and heat dissipation in the cooling circuit (640 kW for each Drycooler).
The sound test confirmed the low noise of the units, and the qualities of the Drycoolers were further confirmed by a finite element analysis (FEA) and a special NDT test including:
Pressure, thermal and mechanical strength analysis
Allowable Flanges – loading calculations
Seismic, Wind and Snow analysis
Maximum force produced on the support legs of the dry coolers
Refhyne green hydrogen PEM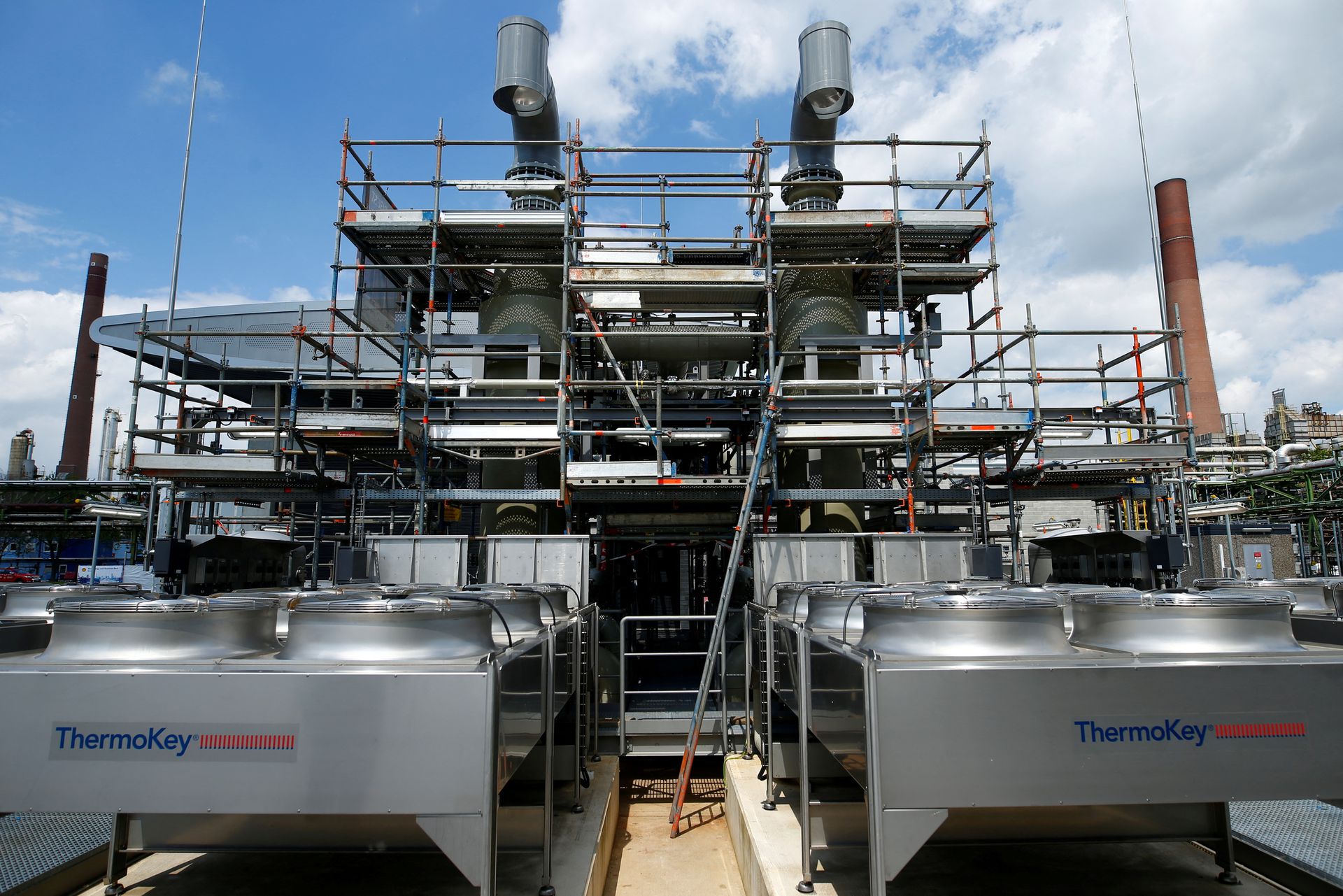 Location
Application
Energy & Process Cooling
Machine cooling of the largest green hydrogen PEM electrolyzer in Europe
Model
Power
Client's needs
Compact Design
Low noise level
Stainless steel casing
Customized Axi-Top
ThermoKey Solution
4 Dry Coolers with Run and Standby configurations, manufactured using copper pipes and fins, 316 stainless steel casing and Axi-Top cowlings fitted on the fans.
Designed to ensure low noise levels. Compact and powerful heat exchangers to ensure heat dissipation in the cooling circuit. Designing of a special bracket to ensure the strength of the Drycooler flanges, due to site constraints.
Full FEA analysis of the heat exchangers to confirm their compliance with design code ASME B 31.5 (Refrigeration piping and Heat Transfer Components.
Added Values
Attention to the environment
Powerful and compact machines designed for a 10 MW hydrogen electrolyzer
Dry coolers fully customized according to customer requirements
Special NDT performed on our dry coolers
Related products